Affordable Stair Lift in Dubai to Meet all Your Indoor and Outdoor Needs
Stairlifts are necessary if you have an older adult at home or if your mobility is limited for any other reason. If you are looking for a suitable stair lift in Dubai that fits all your mobility needs while being 100% safe, our product can meet all your needs.
We have over 15 years of years in this industry and offer a range of services that sets us apart from other stairlift companies. If you are looking for affordable stairlifts to enhance accessibility, you have come to the right place. Our services include installation, maintenance, and repairs.
Best Stair Lift in Dubai & Know How do Stairlifts Operate?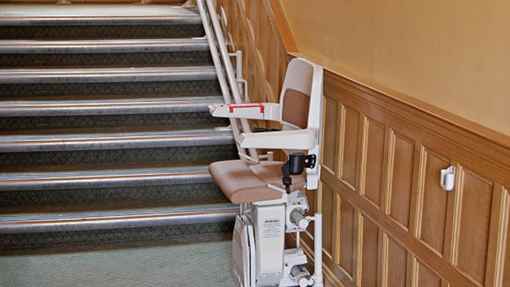 A stairlift (sometimes written as a stair lift) is used to transport a person with limited mobility up and down a flight of stairs. The basic structure of a stair lift includes a chair, a motor, and a track on which the chair moves. The path or rail can be straight or curved and is attached to the steps. The chair moves on these tracks and takes the user up and down the stairs.
Depending on the type of stairlift you need, the features, installation time, and pricing can differ. For example, stairlift pricescan increase with more features; hence, a curved-rail stairlift will cost more than a straight-rail stairlift, or an outdoor stairlift will cost more than an indoor stairlift.
There are many types of stairlifts available in the market. There are ones for a straight flight of stairs, ones for curved rails, indoor and outdoor ones, and even chair lifts for stairs with landings.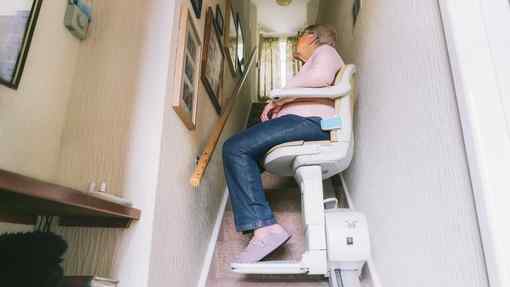 Straight-Rail
These are the most basic form of stairlifts and are the perfect fit for domestic use. As the name suggests, they run on straight rails. How much a stairlift elevator cost vary according to the type, and straight-rail stairlifts are the least expensive owing to their comparatively uncomplicated nature. They are also easier to install because the straight rail comes as a stock part and can be cut to size according to the length of the stair.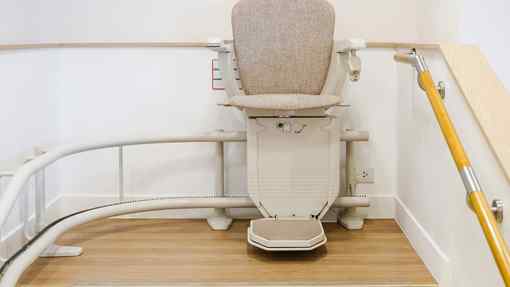 Curved Rail
The curved-rail lift is a more complicated stair lift elevator than the straight-rail lift. The complex structure ensures that these lifts can also handle curves or bends in the track.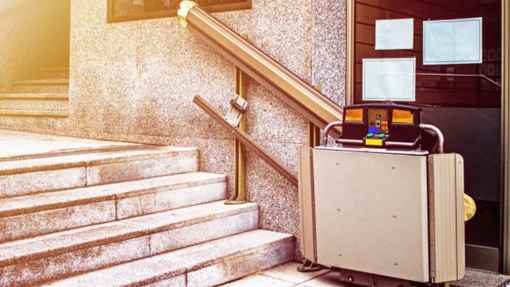 Outdoor Stairlifts
Outdoor stairlifts can be curved-rail or straight-rail. The difference lies in that these lifts are made with weather-resistant features so they can be used outdoors safely. Accordingly, these lifts are made with durable rails, and the stair chair has sturdy plastic seats that can handle most weather conditions.
One of the most Adaptable, Safe, and Pleasant Stairlifts in Dubai
Uses of Stairlift
Stairlifts for seniors are popular as it improves accessibility in their own homes and if safe and easy to use. Climbing a flight of stairs can be daunting when you are growing old. So why spend your energy on something that can be avoided? A mobile stairlift can transport the elderly up and down a flight of stairs without depending on anyone. The same goes for people who are recovering from surgery and thus have limited mobility or someone with a disability.
For the elderly
For people with limited mobility
For people with disabilities
Safety - Extra features
The safety and comfort of our customers are our top priority; thus, our stairlifts come with many safety features. The following are a couple of safety features our products provide;
Seat Belts
Safety Sensors
Hand Controls
Seat Lock Switch
Adjustable Footrests
Battery Backup
Our clients are privileged because they have the opportunity to work with us and let us do something we enjoy. Our services are so vastly different to what others can offer which makes what we do so special.
"I've lived my life as independently as I could, but with old age, I needed someone to help me down the stairs in my own home. Living alone, I found this to be an unwanted complication. Today thanks to Royal Fuji's stair wheelchair, I no longer have to depend on anyone."
"These stairlifts have made all places in my house accessible to me now. It's always a struggle to climb stairs with my disabled legs. I use a ramp or electric stair outside and stairlifts at home. They are easy to operate and totally safe despite my initial inhibitions."
"I got these stairlifts as a piece of temporary equipment while recovering from surgery. I lived alone and didn't want to ask my children to care for me. The installation process is hassle-free, and the best part is the stair lift cost which fell perfectly within my budget."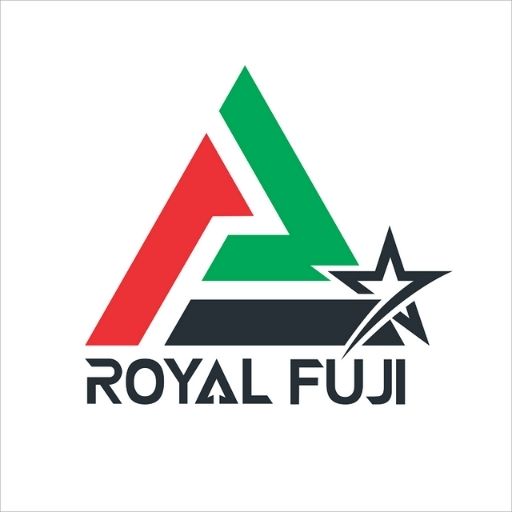 Royal Fuji is a trusted name in elevators, lifts, and escalators. Since its inception, Royal Fuji has risen to meet the growing needs of its diverse customer base. The stair lift may be a comparatively new addition to the wide variety of domestic charges. Still, Royal Fuji has succeeded in creating an affordable product for anyone looking for a stair lift in Dubai.
We use advanced technologies and supply ISO 9001, CE & EN81 qualified products which are safe and affordable. We also provide a range of services to our customers, and we have a long list of products – passenger lifts, dumbwaiters, cargo lifts, escalators, stairlifts, etc.
Frequently Asked Questions
Can stairlifts be fitted to any stairs?
Yes, they can be installed on any stairs. The pricing and installation process may vary according to the length and type of the stairs; however, stairlifts can be made to fit any stairs.
How long does it take to install a stairlift?
It takes about two to three hours to install a stairlift. The duration varies according to the type of stairlift you are installing. For instance, a curved-rail stairlift takes more time to install than a straight-rail stairlift. Contact us to know more about the types of stairlifts.
What happens to a stair lift in a power cut?
Our stair elevator comes with a battery backup. Rest assured, your stairlift will not stop abruptly even if the power is cut.
Can stairlifts turn corners?
Straight-rail stairlift cannot turn corners. If you want your stairlift to turn corners, consider installing a curved-rail stairlift. These stairlifts are built to turn corners safely.
Why should we pick Royal Fuji to meet our needs for stairlifts?
The top stairlift company in Dubai is Royal Fuji. We are renowned for offering a wide range of premium goods with slick operations. For a wonderful stair lift experience, choose us!